The Ratropolis Rats - The Current Crew
Pirate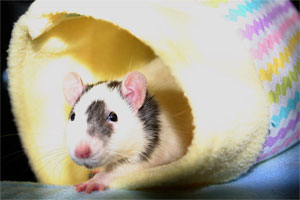 Pirate is an adult big boy, standard ears and standard fur, white with black markings, weighing in at almost 700 grams. He is a real sweetheart - never bites, loves to be rubbed behind the ears and will boggle so hard you would swear his eyes might pop out. He is also a big licker. As a baby he was quite timid, but has overcome that well.
Loki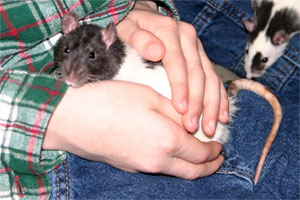 Loki is Pirate's brother, also an adult big boy close to 700g. He is a standard-ear, black-hooded rex, which means he has curly fur and whiskers. Loki is much more skittish than his brother and doesn't get along with other rats. He used to live peacefully with his brother, but then recently, Loki suddenly started attacking Pirate, so they had to be separated. Loki is very happy living alone - a rarity for rats, who usually prefer rat company. He likes spending time with his people and is trying to learn some tricks, but if he smells Pirate on you, he will bite. As long as you are Pirate-free, though, he loves his people.
New Additions
Because rats in general don't like to be kept alone, we will be getting Pirate some friends this coming June. Stay tuned for posts about the new additions when they arrive.
Rainbow Bridge
Unfortunately, we have also lost a few ratties to Rainbow Bridge. We miss them very much and look forward to seeing them again one day when our time has come.
Gabriel (Gabe)
Gabe was our first rattie, a blue-masked dumbo boy. We adopted him as a young adult and he was the sweetest boy you'd ever meet.
Gabe was and will always be our heart rat and we will never forget him.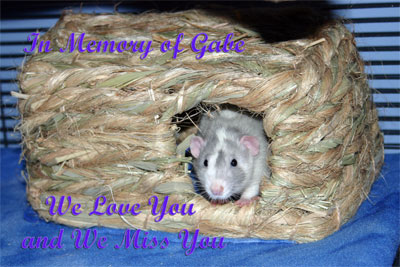 Mystery and Weasel
Mystery and Weasel were brothers that came to us as babies. They were both mink dumbos, with outgoing, vibraceous personalities. Unfortunately, they both suffered health problems - Weasel, a likely Pituitary tumor, and Mystery, chronic respiratory problems, and we lost both at about the same time, at about 1 and 1/2 years.